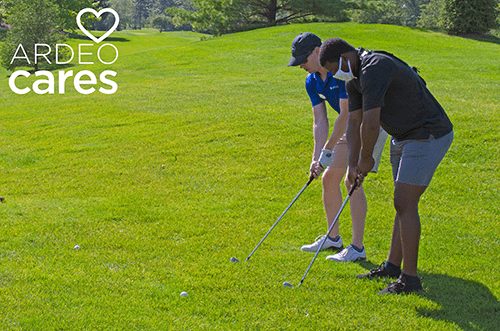 High school and college students in the Chicagoland area are a little closer to graduation thanks to support from Ardeo Education Solutions.
Ardeo team members volunteered at the Companies That Care Annual Golf Outing on Sept. 17. The event supports their AIM High Program, which helps low-income students earn a college degree.
Of those who enter 9th grade at a Chicago public school, only about 17% will graduate from college by 25 years old, according to University of Chicago's Consortium on School Research. By matching students with an adult mentor, Companies That Care is able to help 57% of students who participate in the program graduate with a bachelor's degree.
To support the AIM High program, Ardeo sent a group of volunteers to help run the event. The team assisted with everything from photography to running contests.
In addition to providing event support, Ardeo also sponsored a group of golfers to participate in the fundraising event, which included Alex Barnett, Vice President of Corporate Development at Ardeo.
"What was clear after hearing people from AIM High speak is how much structure and mentorship they truly provide to students," Barnett said. "As a company working to improve access to higher education, it was really rewarding to watch AIM High in action."
This support was provided through Ardeo's philanthropic arm, Ardeo Cares. Nonprofits in the Lisle, Ill. and Bloomington, Ind. areas with a service project idea for Ardeo Cares are invited to contact Erin Kelly at erin.kelly@ardeo.org.