Student & Graduate Success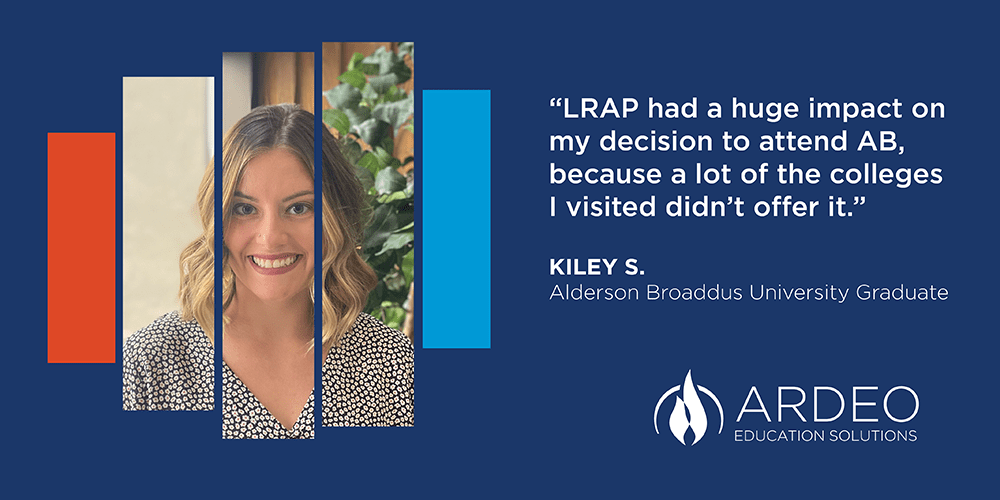 Smart, driven, and ambitious, Kiley S. is going places – and is grateful to have a Loan Repayment Assistance Program (LRAP) to help her get there.
Kiley is a recent Alderson Broaddus University graduate with a degree in Business Administration and Marketing. She plans to pursue a career in marketing.
As she searches for her first job out of college, Kiley said she is thankful AB gave her an LRAP. The program helps repay federal student, parent PLUS and private alternative loans if income after graduation is modest. Kiley said she isn't sure how much money she will make, and the program puts her at ease.
"You know you're going to make it and you know you're not going to struggle that much because of the LRAP program," Kiley said.
Being burdened by student loan debt was a concern for Kiley during her college search. Kiley knew she would need to pay for college by herself, and even with scholarships, she would still need to take out loans. Kiley said she didn't want to feel like she was "already sinking" the day of graduation.
As she explored colleges, Kiley remembers how her mom kept reminding her of LRAP.
"My mom kept saying, 'Hey, I know this school is great, but remember AB has that Loan Repayment Assistance Program that none of these other colleges are offering,'" Kiley said.
The program had a "huge impact" on her decision to attend Alderson Broaddus, Kiley said. It even helped ease concerns throughout her college career as she watched her student loans grow.
"When I hit sophomore year, I remember seeing that loan accumulate," Kiley said. "I remember thinking that it was a lot of money, but I knew it was an investment in my education, that it would all pay off in the end, and that I would have LRAP when I finished."
Now a fresh college graduate, Kiley said she is even more grateful to have an LRAP than the day she accepted the award offer.
"It has really sunk in over these last couple months as I prepare for graduation and apply for jobs that I really didn't realize how great this opportunity was," Kiley said.
Learn more about Ardeo's LRAPs at these upcoming events.