Student & Graduate Success
"I already knew that's the place for me. It was just a matter of how in the world was I going to be able to get there?"
Jacquelyn, a kindergarten teaching aid, did not know how she would be able to attend the college of her dreams.
The cost was holding her back, and she was not the only one with concerns about the college's affordability. Her parents advised her not to take out student loans. They were worried about her quality of life after graduation.
Cost and affordability concerns are major barriers to enrollment. According to a survey of parents and students, 41% report the level of debt they will take on is their biggest concern (2021 Princeton Review Survey on College Hopes & Worries). It has been the most common concern for the past 9 years.
When Jacquelyn was offered a Loan Repayment Assistance Program (LRAP), her parents' fears about student loan debt subsided.
"The more [my parents] got accustomed to the college and to the LRAP Award specifically, [the more they] were at peace with the situation."
LRAPs are a student loan safety-net. They help graduates with modest incomes repay their federal student, parent plus and private alternative loans. The powerful promise they provide gives students the confidence they need to enroll.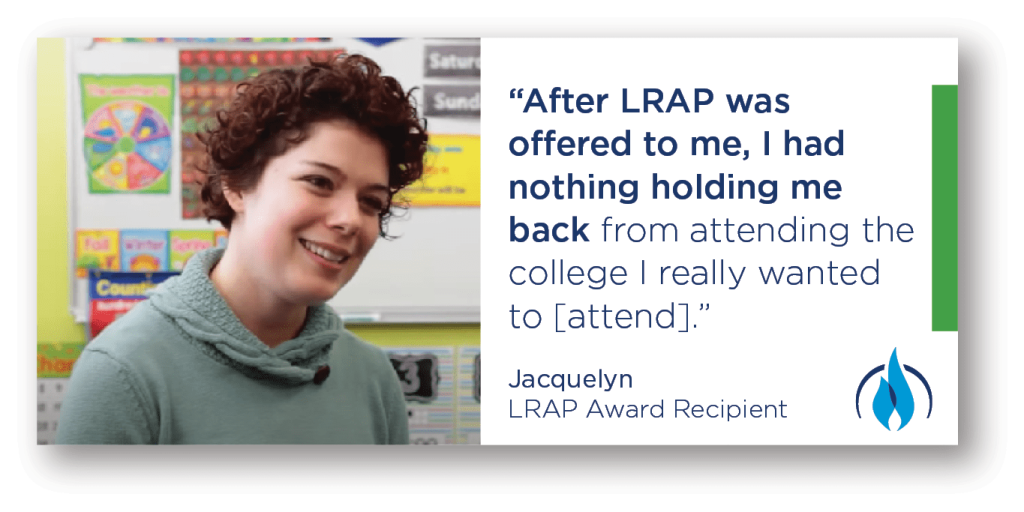 LRAPs have helped more than 200 institutions increase access and enrollment because they offer students a significant benefit after graduation.
"Without LRAP, I wouldn't have been able to be as free after college. I wouldn't have been able to try out different avenues for my career and find out [where] I want to be … The LRAP program isn't just based on money. It's based on support. It's based on people … [Ardeo] was very patient with me. They answered all my questions, made it easy to understand and just [had] my best interests at heart."
Want to learn about how LRAPs work for institutions? Check out these case studies.