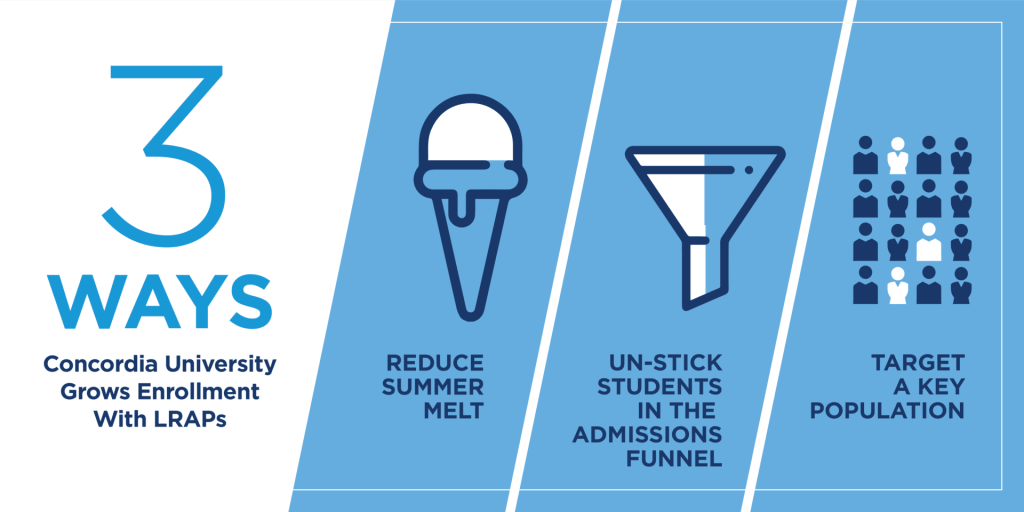 Looking for proven enrollment management strategies? See how Concordia University, Nebraska (CUNE) has used 1 powerful enrollment tool 3 different ways to grow enrollment.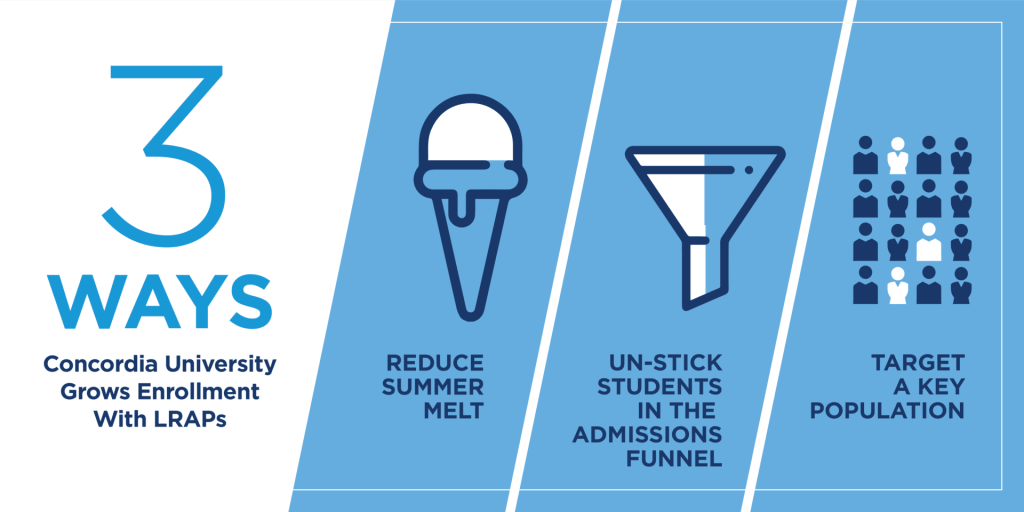 Reduce Summer Melt
In the spring of 2020, Concordia was worried about heavy summer melt. In response, they decided to offer Ardeo's Loan Repayment Assistance Programs (LRAPs) to prospective students to reduce melt. Concordia's Director of Undergraduate Admissions & Operations, Aaron Roberts, said he still remembers the first time he offered an LRAP to a student that summer.
"As soon as I laid out what LRAP was and how it would affect this student, the student got it and the mom really got it," Roberts said. "[LRAPs] play really well with parents who understand that post-college responsibility when it comes to financial aid."
By offering help repaying student and parent loans with LRAPs, CUNE was able to cut melt by about 50%, saving 29 students.
Un-stick Students In The Admissions Funnel
Ardeo's LRAPs are a flexible enrollment tool, and in the fall of 2021, CUNE needed to respond to shifting needs. They began offering LRAPs to students who had become unresponsive in the admissions funnel. LRAPs helped re-engage and enroll 23 students. According to survey responses, 36% strongly agreed or agreed they would not have been able to attend the institution without an LRAP. Roberts attributes some of this success to Ardeo's call team. Based near Chicago, Ardeo's call team contacts students offered the program to remind them of the benefit and answer questions.
"Having that additional resource to stand alongside our counselors was a huge benefit and really helped us," Roberts said.
Ardeo's call team is a complimentary service available to all clients. In addition to the call team, Ardeo also supports its clients' recruitment efforts with email and direct mail marketing.
Target A Key Population
For Fall 2022, CUNE decided to shift gears again. The institution set a goal to recruit more Lutheran Church-Missouri Synod students. To help achieve this goal, Concordia offered LRAPs to a segment of these students – those with plans to work in the church after graduation. Roberts said this strategy has been very successful. As of April 28, 57 students signed their LRAP award and deposited for Fall 2022.
"LRAP is certainly one of the cornerstones for the growth we've had this year," Roberts said. "Each year, LRAP has helped us grow incrementally to where we want to get to as an institution."
Interested in more ways institutions are growing enrollment with LRAPs? See how 10 other colleges and universities use LRAPs in this complimentary eBook: Directly Address Affordability Concerns.