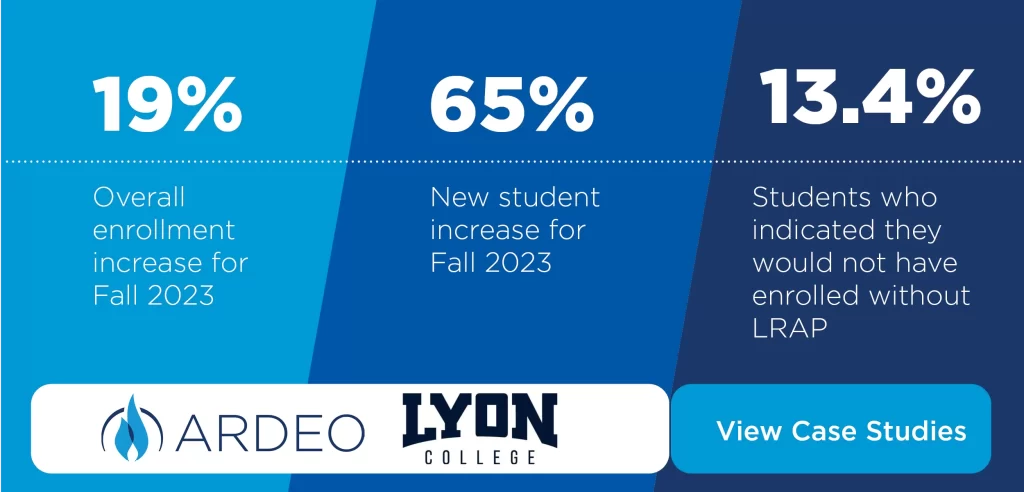 Key Takeaways:
Ardeo partner Lyon College has announced an overall 19% enrollment increase this fall.
They have also reported a 65% increase in first-year students and a 16% increase among new transfer students.
College administrators say success is owed to much hard work and investment, including in the college's private label Loan Repayment Assistance Program, the Lyon Pledge.
Lyon College is celebrating its largest year-over-year freshmen enrollment growth in 14 years thanks in part to their private label Loan Repayment Assistance Program (LRAP), the Lyon Pledge.
Located in Batesville, Arkansas, Lyon increased overall enrollment by 19% and first-time students by 65%. The college is also welcoming 16% more new transfer students compared with last year.
"Most families feel anxious about college affordability," said Tommy Newton, Vice President for Enrollment Management. "The Lyon Pledge has helped us mitigate those concerns."
The Lyon Pledge promises to help graduates repay student and parent loans if their income after graduation is below $45,000. This financial safety net provides reassurance to students and families who need to borrow student loans like Paeton T.
"Not only does (the Lyon Pledge) set my decision on attending Lyon College, but it also makes my parents more comfortable in the financial area," Paeton T., Lyon student.
The college began offering the Lyon Pledge to all freshmen and new transfers in Fall 2021. The initiative garnered media attention across the state, shining a spotlight on Lyon's commitment to making quality education accessible to all.
Learn more about how LRAPs helped Lyon grow enrollment in this on-demand webinar.