We've got good news and bad news. The bad news is, even if the number of applied students in your funnel seemed encouraging for your enrollment goals, recent data shows your yield rate might be less than you expect. The good news is, the research reveals a possible solution you can implement – even today – and get admitted students to enroll.
As you may know, the proportion of college freshmen who applied to 7 or more colleges reached 35% in 2016. This is up from 17% a decade ago, and from just 9% in 1990. Meanwhile, the average yield rate was 35% in 2016, down from nearly 50% in 2002. That means at most institutions, only one in three who are accepted end up enrolling. (NACAC State of College Admissions).
Thankfully, additional research sheds light on a possible cause – and points toward a sustainable solution. We believe addressing fear of debt is a factor.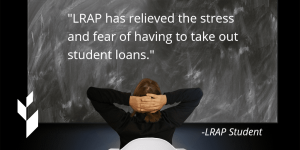 A recent study shows 24.8% of students did not enroll at their first-choice college or university, despite having been admitted. Of those who did not enroll, 71.6% indicated cost-related reasons; expensive, better aid or scholarship elsewhere. (EAB New College Freshmen: Perspectives on College Choice). That means addressing cost concerns – including fear of student loan debt – could make a big difference.
Like you, most admissions directors (85%) reported to IHE's 2017 survey that they were very (55%) or moderately (30%) concerned about reaching their institution's enrollment goals this year. Likewise, 90% of private nonprofit college presidents from IHE's 2018 survey strongly agree or agree that attention to student debt has led many prospective students and parents to think of college as less affordable than it is.
Maybe you are already on top of these issues. If not, offering a loan repayment assistance program (LRAP) has been shown to move students just like yours to reconsider and enroll at their school of first-choice.
Take a look at our case studies to find one that resonates with you and request a custom proposal for your institution today.