Improve Access and Recruitment on your Campus with the Ivy League Inspired Secret
Order your free* copy of "A Powerful Promise" right now!
A new book about Loan Repayment Assistance Programs (LRAPs) gives readers an insider's look at how one tool is changing the higher education landscape.
"A Powerful Promise: The Ivy League Inspired Secret Improving Access and Recruitment at Colleges Today" is a collection of stories by college administrators and students from across the country. Readers will get a firsthand look at how LRAPs have been improving access and recruitment at colleges for more than 30 years by giving students a guarantee that their degree will be worth it.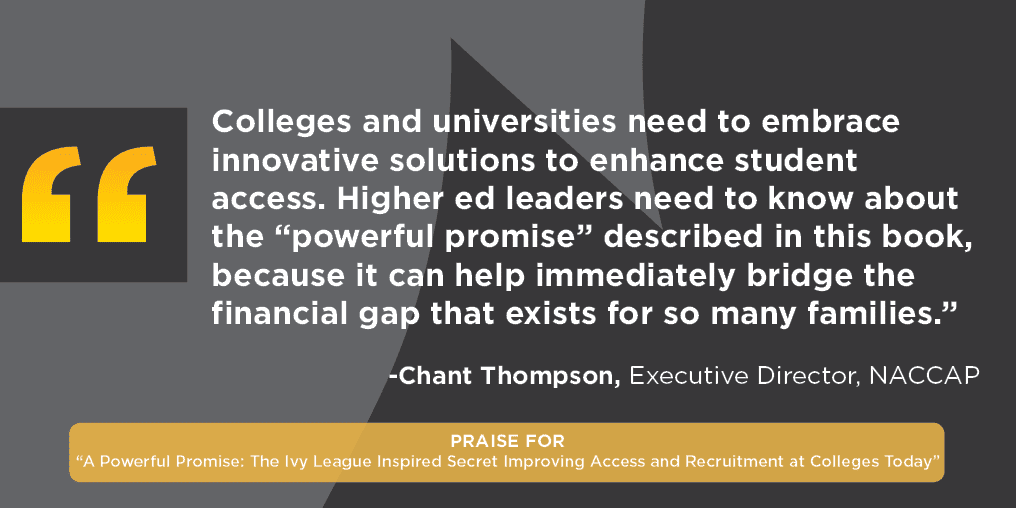 The book begins by tracing LRAPs' roots back to its creation in the Ivy League.
Readers will learn how – after benefiting from a program similar to LRAPs at Yale Law School – Peter Samuelson, President of Ardeo Education Solutions, was inspired to adapt the program to the undergraduate level so more students and colleges could enjoy the program's many benefits.
"I believe strongly in the life-changing power of higher education, and I wanted students … across the country to enjoy the same freedom [LRAP] gave me," Samuelson said in "A Powerful Promise."
In addition to Samuelson's experience, readers will hear from students who have benefited from LRAP. Students share how the program enabled them to attend their first-choice institution, encouraged them to persist to graduation and enabled them to follow their dreams.
"I remember receiving my first LRAP check in the mail," said Brianna Loomis, an LRAP Award Recipient featured in the book. "I cried. I laughed. I jumped up and down with joy! I was filled with extreme gratitude."
College administrators share how it is helping empower students and advance institutional goals. Readers will hear from 11 college administrators at 10 schools about how and why they started using LRAPs to improve access and recruitment.
"The Mission Statement of IWU speaks to a commitment to diversity and social justice," said Greg King, Dean of Admissions at Illinois Wesleyan University in the book. "LRAP has given us a tool to better live out that commitment."
Order your free* copy of "A Powerful Promise" right now!
*While supplies last.