The transformation of a prospective college applicant to a prospective alumni donor happens quickly and often long before graduation. It's reasonable to infer that a positive campus experience would result in a greater propensity to give back to one's alma mater. But which experiences influence giving the most?
A recent study by Ruffalo Noel Levitz sought to answer just that question. As expected, some dimensions of students' experiences have a greater impact than others, with "Recruitment and Financial Aid" ranking among the top three forms of experiences that are most strongly related to alumni giving.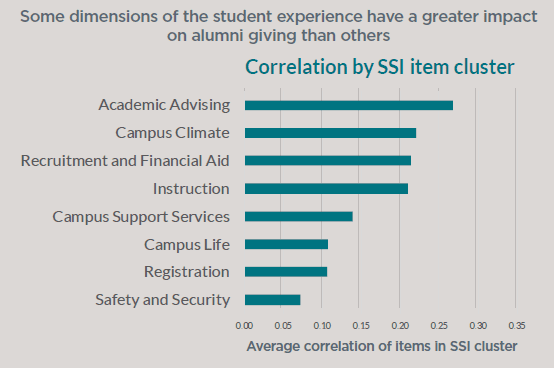 More specifically, the component experiences of Recruitment and Financial Aid that were linked strongest to alumni giving include:
Financial aid awards are announced early enough to be helpful in college planning
Admissions staff are knowledgeable
Admissions counselors respond to prospective students' unique needs and requests
Financial aid counselors are helpful
Adequate financial aid is available
These altogether illustrate that fostering the transition from prospective student to prospective alumni donor begins at the initial contact with the institution and continues through graduation. Further, as we have found at LRAP, making a profound financial promise to students can have a consequentially profound effect on alumni affinity.
LRAP's Roots: Fostering Alumni Affinity
Yale Law School began developing the Career Options Assistance Program (COAP), the model upon which LRAP is based, in the mid-1980's and offered its first fully comprehensive program during the 1989-90 academic year. The goal of this LRAP was to not only improve yield and help shape the law school's class, but also to provide graduates with the opportunity to pursue their passions – and not just a paycheck – after graduation.
Yale administrators frequently hear moving anecdotes from these LRAP recipients, many of whom wouldn't have had the same formative professional experiences if not for LRAP. While this helps speak to the gratitude of these graduates, an even more telling measure of this LRAP's impact is the sheer volume of alumni giving from subsequent LRAP classes. The largest in the history of the University, this year's class reunion gift surpassed an impressive total of $2.5 million.
While not all who contributed to the class gift were LRAP recipients, it seems fitting that in this instance, giving begets giving. But offering a significant benefit like LRAP is likely to not only have an impact at unique institutions like Yale Law School, but also at many of LRAP Association's current partner colleges.
For example, in a recent survey of LRAP assistance recipients (graduates of LRAP colleges who've received LRAP financial assistance), 92% indicated being grateful to their alma mater for providing LRAP: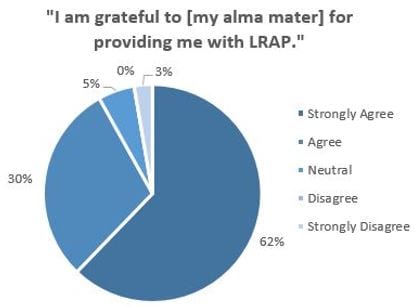 The Bottom Line
There's no silver bullet to fostering generous alumni. Indeed, it takes a holistic approach: alumni who rate their alma mater highly across all experiences tend to donate the most.
In the increasingly competitive world of higher education, institutions are devoting more and more resources to provide truly exceptional college experiences. But these efforts may prove ineffective for advancement offices if a growing share of alumni struggle with student debt.
LRAP provides a profound response to this problem, and as we have found, the powerful financial promise of LRAP has a similarly positive impact on alumni affinity. One can only surmise that this affinity will likely translate to increased alumni giving later in their careers.