Ardeo Education Solutions, formerly known as LRAP Association, made the annual Inc. magazine list of fastest-growing private companies in America. Ardeo qualified for the Inc. 5000 list with a growth of 189 percent from 2015 to 2018 – ranking No. 2,123 on its 2019 list.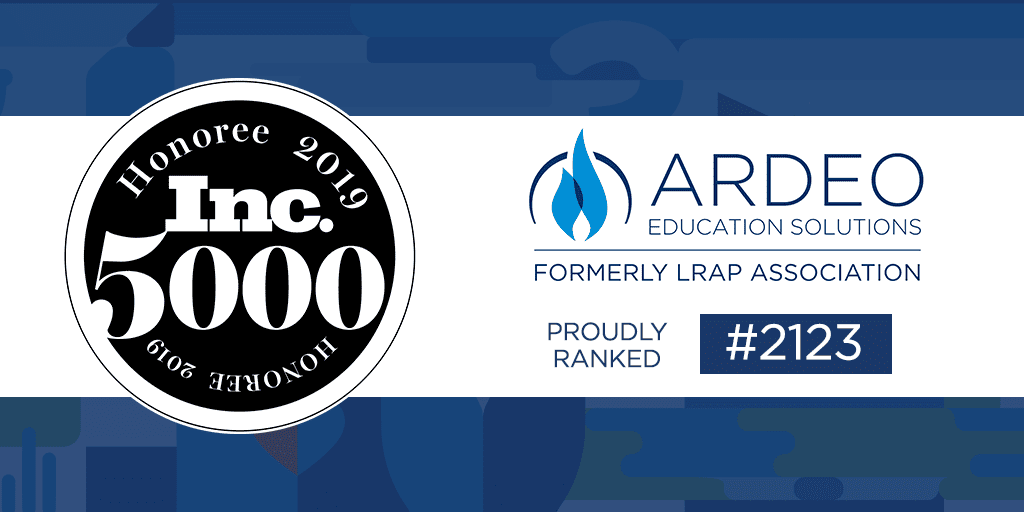 "We have a good team and we are proud of that they accomplished, in being ranked among the nation's fastest-growing and innovative companies," said Peter Samuelson, president of Ardeo Education Solutions. "We are passionate about the value of higher education and helping more students, families and the colleges and universities who serve them."
Ardeo is a mission-driven company that partners with higher education institutions to provide loan repayment assistance programs (LRAPs) that help colleges and universities increase enrollment and help make affording college more accessible to students and families.
What students have to say about their LRAP:
"I feel like this provides a sense of security for me that other universities couldn't offer. The fact that the University is providing this for their students shows that they are really invested in making sure the student is successful, even after the student has graduated." – LRAP Award Recipient
"I would absolutely not be able to have gone to my preferred college or been able to pursue grad school without LRAP." – LRAP Assistance Recipient
"This LRAP will help me focus on my academics and be fully committed to studying. I will be able to devote more time to setting myself up for a successful school year and future career instead of worrying about paying back loans." – LRAP Award Recipient
The 2019 Inc. 5000 is ranked according to percentage revenue growth when comparing 2015 through 2018. To qualify, companies had to be U.S.-based, privately held, for profit, and independent – not subsidiaries or divisions of other companies.
Learn more about how colleges and universities have increased their enrollment and provided a powerful financial promise to their students and families. Here are a few examples of universities that have successfully used Ardeo's LRAPs to increase enrollment. Or check out other Case Studies from our partner schools here.