For just over 8 years, Ardeo Education Solutions has had one of the best higher education leaders within its ranks – and now we have the proof.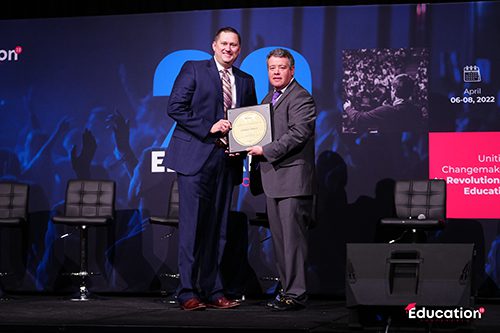 On April 6, Senior Vice President of Client Service, Dr. Jonathan Shores, accepted the Outstanding Leadership Award from Education 2.0, a professional conference dedicated to uniting changemakers to revolutionize education. Dr. Shores was nominated for the award by Ardeo client Dr. Evan Duff, President at North Carolina Wesleyan College.
"I have known Jonathan professionally for over 16 years," Dr. Duff said. "During that time, he has demonstrated exceptional leadership experience in both higher education settings as well as working for agencies that support higher education institutions."
All nominees for the Outstanding Leadership Award are judged on the leader's reputation, educational background, professional experience, creative thinking, and decisive leadership.
"It was a tremendous honor to be nominated," Dr. Shores said. "I was especially honored to be nominated by President Duff, a dear friend and mentor to me for over 15 years. President Duff has invested countless time and unquantifiable energy into seeing me grow as a higher education thought leader by sharing his experiences and listening to my ideas over the years. I was over the moon to be nominated for the award, but it meant so much more coming from him."
Dr. Shores began his higher education career with Campbell University in North Carolina where he started as an Admissions Counselor. He eventually worked his way up to Vice President of Marketing and Enrollment at Montreat College in North Carolina before coming to Ardeo.
Throughout his career, Dr. Shores said he has been especially passionate about serving students.
"For years, I've tried to follow President Duff's example and focus purposefully on the students, knowing this singular focus would lead to everything else – revenue, enrollment, and finances – working itself out," Dr. Shores said. "In my role now as a vendor/consultant, students remain my focus and the lesson of that has always served me well and enabled me to give back to the higher education community I love so dearly."
A Chief Master Sergeant (Reserve Component) with over 20 years in the United States Air Force, Dr. Shores holds an BBA in Trust and Wealth Management, an MBA in marketing management, both from Campbell University, and a PhD in marketing from Northcentral University in California.